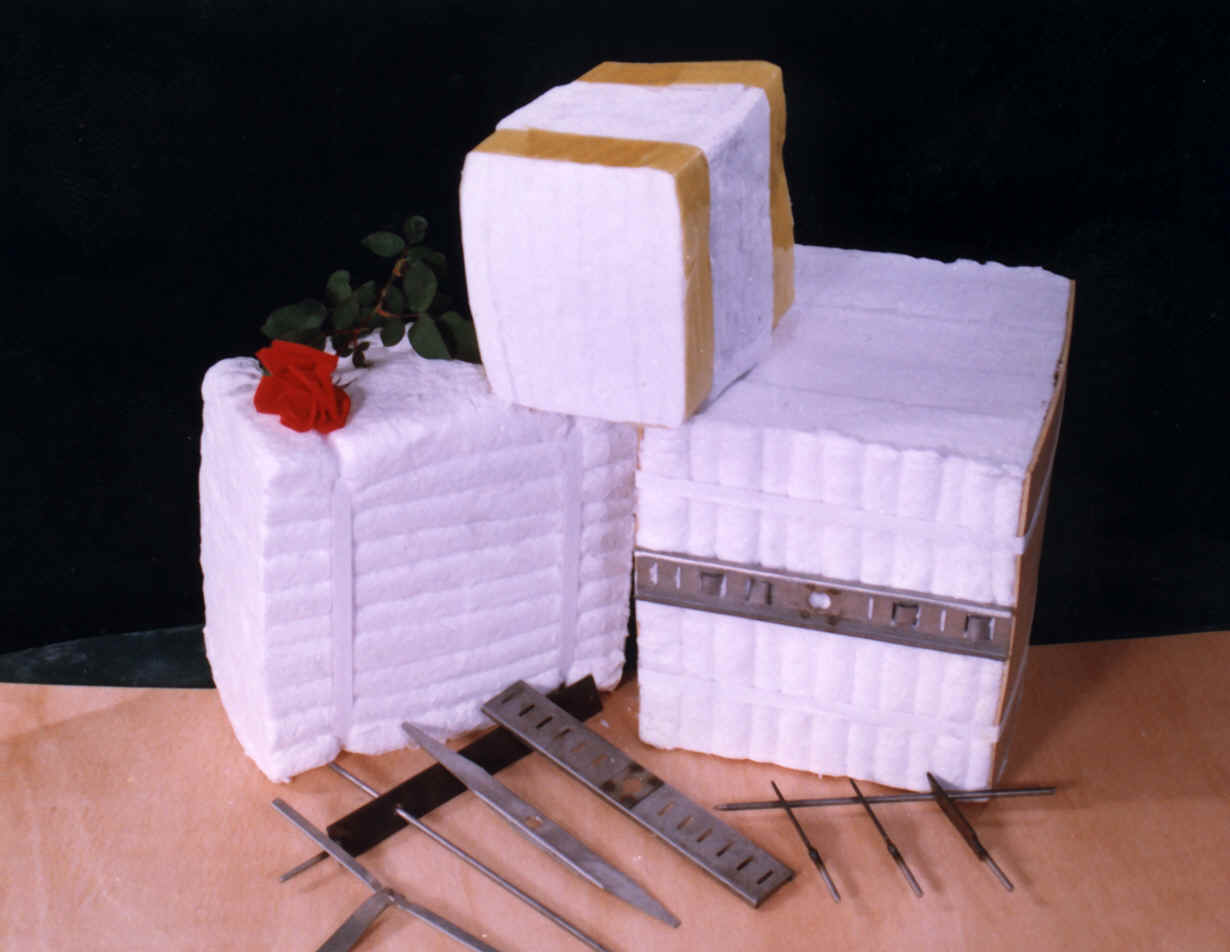 Classification Temperature
STD Modules 1260° C (2300° F)
HP Modules 1260° C (2300° F)
HA Modules 1400° C (2550° F)
HZ Modules 1400° C(2550° F)
Production Technology
Each type of ceramic fiber modules, using corresponding ceramic fiber blanket according to ceramic modules' structure and size, is produced with a special machine. During the process of manufacturing, certain compression proportion is kept in order to make ceramic fiber modules to form a seamless entirety when used in a high temperature expansion situation. All the modules can be mounted directly on to industrial furnace. Customers may choose different ceramic fiber modules with different material and structure according to furnace's structure, temperature, environment atmosphere ,etc. Modules available are in Z-block, Hanging block, beam block, or according to customers' drawings.
Characteristics
Low thermal conductivity
Low heat storage
Excellent thermal stability, thermal shock resistance and good elasticity. Furnace liners will have no cracks because of the expansion of ceramic fiber modules. The expansion of ceramic fiber modules can compensate the shrinkage of fiber, the liner's insulation property is improved.
The modules can be installed quickly. The anchors are install on the cold side, the requirement of the anchor material can be lowered.
Technical index
ITEM
STD
HP
HA
HZ
Specification Temperature° C
1260
1260
1400
1400
Working Temperature° C
1000
1100
1200
1350
Density (Kg/m³)
190-240
190-240
190-240
190-240
Chemical composition(%)
Al2O3
46
47-49
52-55
39-40
Al2O3+SiO5
97
99
99
-
Al2O3+SiO5+ZrO2
-
-
-
99
ZrO2
-
-
-
15-17
Fe2O3
<1.0
0.2
0.2
0.2
Na2O+K2O
<=0.5
0.2
0.2
0.2
Sizes (mm): 600x24-300x100-200 (no anchoring-structure); 300x300x250(anchoring-structure) Different anchoring-structure modules can be produced according to customer drawings.